Jardines de Chamana
Spa and Guest House.
Jardines de Chamana Spa, or Chamana Gardens Spa. is located very near to the Chamana waterfalls, the place is perfect for relaxing in a natural environmen. The word Chamana comes from the indigenous word Shaman with is basically a witch or herb doctor. They claimed that this sector near the waterfalls was charged with energy so thats why they frequently visited the region. Nowadays Chamana is also a well now medicinal herb used to treat several health issues by the locals.
Definitively Chamana is the right place to stay if you are looking for peaceful and a quiet natural atmosphere without forgetting traditions, culture, relaxation, healing and spiritual peace.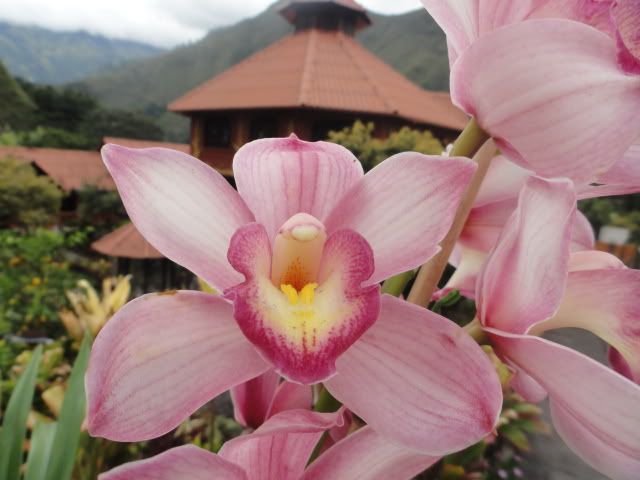 Jardines de Chamana offers:
Enjoy our quiet room full of tranquility and peace, Awake every morning with birds singing by your window and the distant sound of the waterfalls around your room.
Single and double rooms are available. Single cabins and couple rooms as well.
The rooms include: Tv LCD 32p' tv cable, internet wifi, private bathroom, etc.
Our very experienced Chef can offer, national and international cuisine. We can arrange menus for large groups too, coffee breaks, etc
Bar, Karaoke, Pool table, Table soccer, ping pong table, gaming table, fire place, etc.
CONVENTION HALL LA CUPULA
Panoramic view of the Llanganates national Park and the Tungurahua volcano.
Group discount is offered. All inclusive packages can be arranged too.
Projector available for conventions and meetings. We can help you setting up your next seminary logistics too.
Tree house and softballs pool.
Spa
Gym with panoramic view.
Take walks around the gardens full of flowers and birds.
Live shows. (fire night and dancing night with professional dancers. )
Tour packages available.
Seminars and Events.
Contact Us.
Jardines de Chamana Spa
& Gallo de la Peña Ecological Reserve

Ulba km. 2 sector Chamana
Baños – Ecuador
Tel : + 593 3 2742 107
info@jardinesdechamana.com
jardinesdechamana@gmail.com