Spa Yerba Buena | Masajes Banos Ecuador
We visited Spa Yerba Buena in Banos a place that offer masajes as local people call it here, and we had a wonderful experience, the guest book is full of amazing reviews in at least 7 languages from people and visitors from all over the world that just loved the experience. Before we visited their place we where asking ourselves why a person or tourist should go to receive a massage or beauty treatment while exploring and traveling? Well let me tell you that the answer to that question came as obvious to our minds just after we were done with a long horse riding tour around Banos mountains and hills, you will surely end looking for a massage or masajes banos ecuador anytime soon.
Why and how to get a relaxing massage in a Spa of Baños | Masajes Banos Ecuador in Spa Yerba Buena.
Yerba Buena Spa is the place to visit in order to relax your body and mind after a long journey around Ecuador or after experiencing some of the extreme sports that anyone can practice in and around Banos. Spa Yerba Buena in Banos offers an interesting variety of treatments and relaxing massages that will certainly improve your  sense of well-being and comfort just make an appointment and they will book you immediately.  The place is very warm and comfortable I loved the quiet and silent atmosphere, it is definitely and place to keep in mind for your next trip to Ecuador and Banos.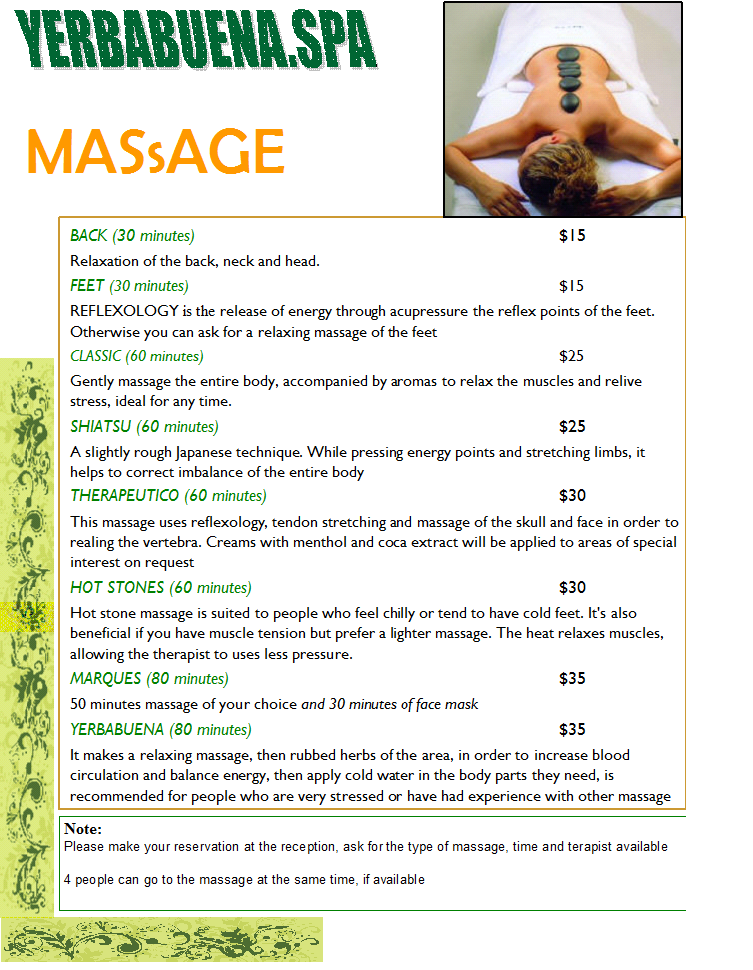 Spa yerba Buena ofrece Relax | Masajes Banos Ecuador.
Spanish: Visitamos Spa yerba Buena y nos pareció un lugar muy acogedor, la experiencia es única y alcanzar un mejor estado de relajación y bienestar luego de sus tratamientos está garantizado. Nos llevamos una grata sorpresa al tratar con su personal altamente calificado y realmente amable, hondamente interesados en tu relajación brindándote la mejor experiencia posible.
Un lugar ideal para visitar en Banos Ecuador en busca de relajación, paz mental y corporal es Spa Yerba Buena, este es un lugar cálido y acogedor, lleno de pequeños detalles. Posee un ambiente tranquilo y relajante. Las personas que ofrecen sus servicios profesionales de masajes en Banos Ecuador, en este Spa es gente profesional con amplia experiencia en este arte de brindar bienestar  salud. Ofrecen varios servicios como:
Tratamientos faciales y corporales
Manicure y pedicure
Masajes relajantes
Masajes descontracturantes
Masajes deportivos
Masajes sedativos
Masajes antiestrés
Tratamiento con piedras calientes.
Entre otros muchos servicios relacionados
Haga su reserva con nosotros.
Contacto: Manager: Janeth Ríos
Dirección: Montalvo y Rafael Vieira
Teléfono: 2741564

Masajes Banos Ecuador

Prices: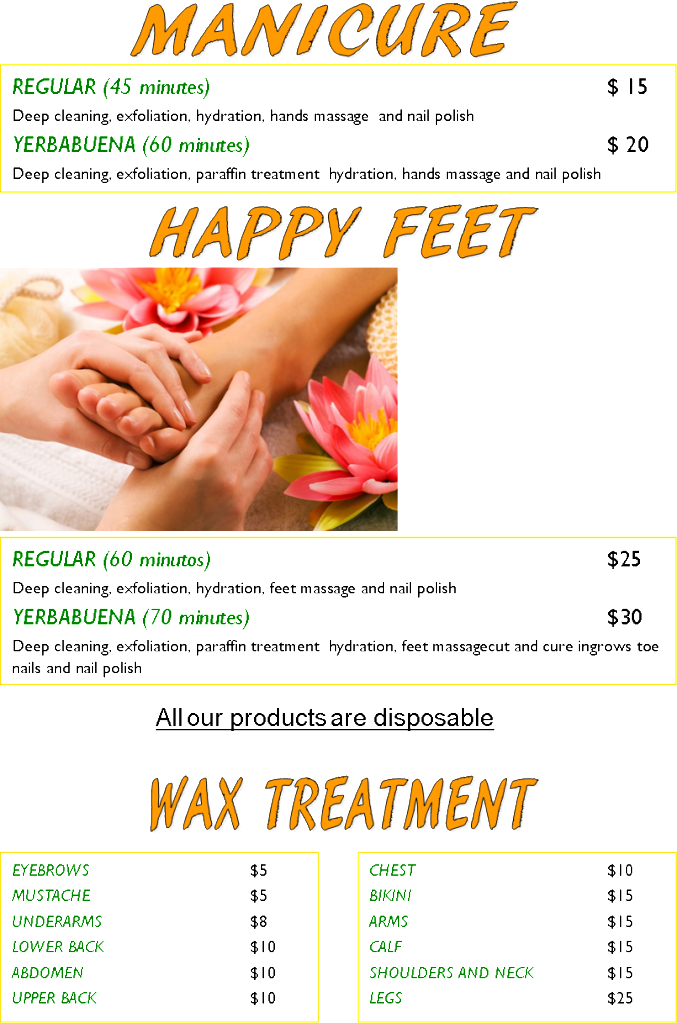 Leave your rating below if  you also had a relaxing time at Spay Yerba Buena, Masajes Banos Ecuador.
Actividades Relajacion Servicios de Salud Banios spa, banos adventure spa hotel, manicure banos, masajes banos, masajes banos ecuador, masajes en banos, masasjes en banos, Massage Banos Ecuador, pedicure banos, relaxing massage in banos, spa banos ecuador, spa banos massages, spa ecuador, Spa en Baños, Spa Tungurahua, spa yerba buena, spas en banos, spas in ecuador

Related Listing
MTS ADVENTURE. Canyoning. Nuestra misión es garantizar al cliente una experiencia inolvidable ...

Tienda de Artesanias Batik Shop. La Tienda de Artesanías ecuatorianas conocida como Batik Shop se ...

Nativa Shop Artesanias Banos información: Nativa Shop es una de las tiendas más exclusivas de ...