Jardines de Chamana
Banos Spa and Rural Hotel.
Jardines de Chamana Spa is located right across the Chamana waterfalls, the place is perfect for relaxing in incredible and charming natural enviroment, it is considered by the locals as a energizing spot. Chamana word comes from the quechua word that means, man that can talk to the gods and heal, also the Chaman can use herbs and plants to cure.
Jardines de Chamana is a beautiful location where to rest and spend some night relaxing and enjoying the beautiful weather. It is very peaceful around Chamana hotel here, but full of traditions and cultural experiences.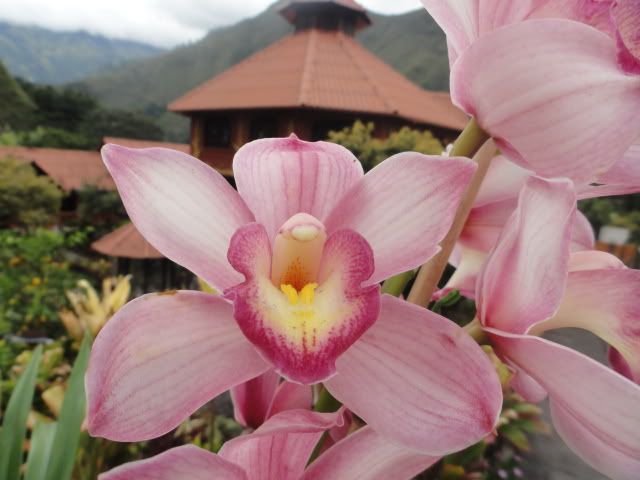 Jardines de Chamana Hotel offers:
ROOMS:
Enjoy their comfortable suites, enjoy the relaxed atmosphere, wake up every morning with the songs that wild birds will sing for you in the gardens.Ah and do not forget the tranquile sound of the waterfall in the background.
They offer simple rooms, doubles and triples, also Cabins are available for families. Private bathroom, every room also include, an LCD TV, Satellite TV, Internet – WiFi.
RESTAURANT  – EL CATEDRAL.
Our Chef at Jardines de Chamana Banos, can certainly suit all your culinary spectations and desires, from typical national Ecuadorean food to international dishes made of fresh ingredients. Special menus can be arranged for big groups also.
PLAY ROOM – EL CANARIO.
Our Bar and Pub offers excellent beer and cocktails, also Karaoke, Pool table, ping pong table and cards game table. with a warm fire in the room.
CONFERENCE ROOM – LA CUPULA.
Panorámic view of Llangantes national park and the Tungurahua volcano. Projector, Seminary kit, wifi and every other conference need will be covered. Special discounts for groups.
CHILDREN PLAYGROUND.
For children we offer a unique Tree house and balls pool plus gardens and nice views where to relax and play.
Spa and Massages
Gym with panoramic view.
Garden paths, walk surrounded by orchids, local plants, and cactus trees. also flowers and beautiful birds.
Live shows (with fire) dancing night, and more.
Tours in and around Baños.
Special packages. Talk to us about your needs.
Seminar, conference organization and support.
Do not hesitate to contact Jardines de Chamana hostel us:
Jardines de Chamana Banos
& Reseva Ecológica Gallo de la Peña
Vía Ulba km. 2 sector Chamana
Baños – Ecuador
Tel : + 593 3 2742 107
info@jardinesdechamana.com
jardinesdechamana@gmail.com